Where to stay. Things to see & do. Places to eat. And More!
Portugal is a highly underrated country that doesn't get nearly as much love as its European neighbors. But I can assure you that it's a place that you have to visit at least once in your life!
If you're looking to see as much as you can in 8 days, look no further, you've come to the right place! I'll share with you some tips on where to stay, what to do (and not to do), where to eat, and how to budget properly so that you can make the most of your stay in Portugal. 
The Breakdown
Portugal is a small country located on the Iberian Peninsula. It is very easy to get around and the weather is lovely. Since we only had 8 days, we divided our trip into three cities:
TOP 3 Cities in Portugal (Must Visit)
Porto – The city that gave Portugal its name. Known for its famous Port wine production in the breathtaking Douro Valley, and home to Livraria Lello, arguably the most beautiful bookshop in the world!
The Algarve – Ever wonder what the other side of the Atlantic looks like? Portugal's southernmost region, which includes beach towns like Lagos, Faro, and Albufeira, offers some incredible beaches, dramatic limestone cliffs, stunning caves, and some of the best seafood in the world.
Lisbon – Portugal's capital and one of Europe's most vibrant cities. The city of the seven hills features a wide-range of activities, a buzzing nightlife, and the best Pasteis de Nata in all of Portugal! 
Our Itinerary 
Day 1: In Porto, Portugal
Arrived in Lisbon and took the IC metro to Porto. (Looking back, we should have flown straight into Porto to save time).
We stayed in Spots Apartment. An aesthetically pleasing, clean, and affordable place close to the liveliest parts of town.
Since this was our arrival day, we decided to take it easy, settle in, and wander through the streets of Porto.
We took a walk down the historical city center and had a quick bite for dinner at Farinhna. A popular place to get pizza. We called it a night early to make sure we were well rested for our all day tour tomorrow. 
Day 2: In Porto, Portugal
Ready for our Douro Valley Cruise Tour that included wine tasting. 10 out of 10 – would highly recommend it!
Our tour started with a wine tasting at the Quinta Dos Castelares.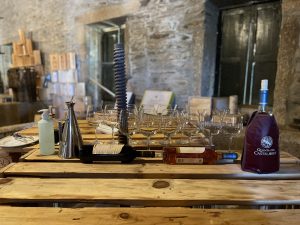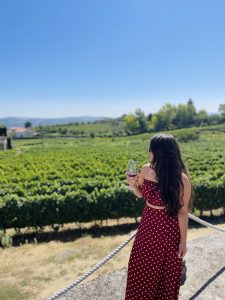 Then we drove to the Rio Douro to board our Douro Valley Cruise. It was breathtaking!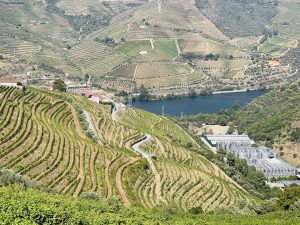 We ended our tour with a Port wine tasting at Quinta Santa. This was my first time trying port wine and, to be honest, I wasn't crazy about it. I am not into sweet drinks and port wine is made to be pretty sweet. I don't think I'll be trying it again but it was a nice experience. Most of the people at our table seemed to enjoy it – maybe you will too! This winery also had some amazing views of the Douro Valley!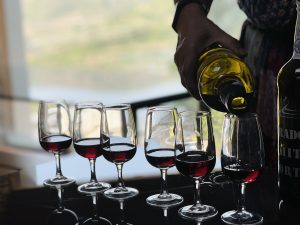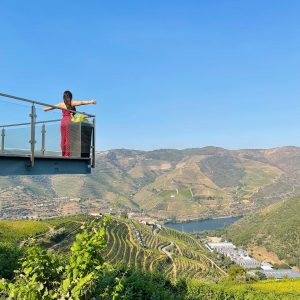 At night we strolled down the Cais de Ribeira– a very popular street with tons of restaurants. We chose a restaurant that had a great view of the Ponte Dom Luis.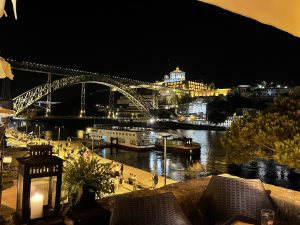 At the restaurant, we started off with fried calamari and clams. For dinner, I ordered pasta with shrimp. My boyfriend ordered the Dorado. And we shared a pitcher of Sangria. Everything was delicious. No complaints at all! Dinner, drinks, and a waterfront view. All for just $49!
Day 3: From Porto to Lagos
In the morning, we decided to finally try Pasteis de Nata- Portugal's iconic egg custard tart – at Nata Lisboa. One word, WOW!! They were addicting and they would be our first of MANY.
Next, we toured Porto Cathedral – a Roman Catholic church and one of the city's oldest monuments. We took the LONG narrow-winding staircase  to the rooftop to admire the city of Porto from above. 
Then, we headed to Livraria Lello – any Harry Potter fans out there?! This bookstore is rumored to have served as an inspiration to the Harry Potter Series. And after viewing the architecture, it's easy to see why.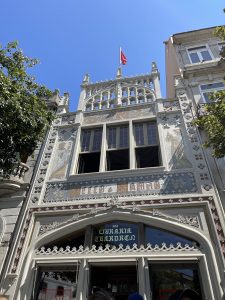 The line; however, was ridiculously long and we were short on time. I decided to walk to the front of the line to ask if there was another way to get in and, to my surprise, I was told I could purchase priority tickets online by paying 15.90 Euros! We took the deal and waited only 5 minutes!! We even received a free (mini) book as a souvenir! I highly recommend this option to avoid waiting 1+ hours to get in.
Afterwards, we stopped by Manteigaria for some more Pasteis de Nata. This chain apparently serves one of the best in Portugal and can be found in Porto and Lisbon. It ranked top 3 in our book but the best was yet to come so stay tuned 😉.
Before leaving Porto, we stopped by Cafe Santiago to order their famous Francesinha sandwich.
After missing our CP train, we took a costly uber to our next destination – the Algarve Region. (If I could do all over, I would have booked a flight to Faro since it would have been faster and cheaper)
4 hours later, we finally arrived in Lagos. We stayed at a guesthouse called DBV Guesthouse. It was a private room with a bathroom. It wasn't the fanciest place but for the price range and number of days that we stayed, it was enough.
At night we headed to Bon Vivant – one of the best rooftops in Lagos! They did an excellent job limiting the amount of people they let in at a time due to Covid restrictions. The vibe inside was fun and lively and the rooftop was super chill. We tried their award-winning drink which was tasty.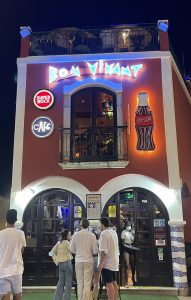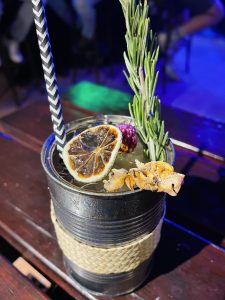 Day 4: In Lagos, Portugal
We started off our morning with….you guessed it! Some more Pastéis de Nata!
Then, we headed to our Benagil Sea Cave Speed Boat tour. This 90-minute tour was fantastic! We cruised alongside the cliffs of Ponta da Piedade- a group of rock formations that line the coast of Lagos. We saw some remarkable sea caves including the famous Benagil Caves – ranked one of the most beautiful in the world by Michelin Guide and a screensaver for Windows 10!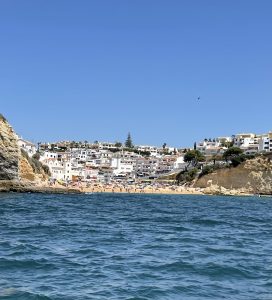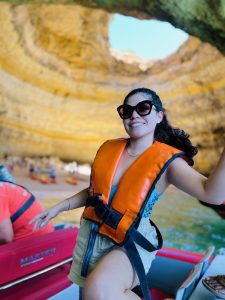 Before our tour ended, we were able to jump in the water. Even though it was August, the water was freezing! I was only able to swim for a few minutes before I started to feel numb and needed to head back to the boat. "Cool" experience though – pun intended 😂!
That evening, we headed to Canico Restaurant – a beach restaurant in Alvor, Portugal. This was hands down the best restaurant of the entire trip!
We started off with clams and grilled calamari! (No fishy taste on the clams at all!) For our entree we ordered the Dorado with smashed potatoes and vegetables. This place, easily, served the BEST seafood I have ever had in my life! The views are breathtaking. The setting is absolutely stunning. It's pricey, but you must go to this place if you are in the Algarve. 
Day 5: From Lagos to Lisbon
The next morning, before heading to our final city, we took a stroll along the main strip and a walk down the boardwalk. We stopped for some doner kebabs at Doner Kebab and Pizza House; their doner kebabs are a must try!
We decided to book a ride through Blablacar, a popular carpooling app, to head to Lisbon. The driver never showed up! (Talk about unreliable!) Luckily we found a Flixbus which was only $38 for the both of us. It was a 3hr 50 minute ride. The ride was long but it had wifi and it was comfy. We fell asleep for most of the ride.
When we arrived in Lisbon, it was close to midnight. It turned out, the place we had booked to stay in Lisbon, for some reason, closed their reception desk early that night. Long story short, we had to book a private room in a hostel nearby. This was my first time staying in a hostel and, in all honesty, it wasn't a bad experience at all. We were able to book a wonderful guided Sintra and Cascais tour through the hostel the next day for only $25 per person!
Day 6: In Lisbon, Portugal
We started our morning with some yummy Pasteis De Nata from Fabrica da Nata, one of the top 3 places in our book.
Then we went on our Sintra and Cascais tour with our hostel; visiting these places is a MUST! Sintra was magical. Pena Palace was like something out of a Disney movie. I would suggest wearing comfortable footwear since you will be walking a lot. The castle also sits on top of a large hill in the Sintra mountains. 
After Sintra we stopped by the Western Most Point in Europe –Cabo da Roca in Cascais. It was incredibly windy but the views were awesome. As a New Yorker, it was cool to be standing on the opposite side of the Atlantic ocean.
Next, we headed to Boca do Inferno 'Mouth of Hell,' an ancient cave along the Atlantic cliffs. The "mouth" was created from strong waves repeatedly crashing into the cliffs creating the archway that we see today.
Once we got back from our tour, we checked out of our hostel and checked into our original accommodation, the Augusta Boutique House.
Then, we stopped by Manteigaria for some more Pastéis de Nata. (We just couldn't get enough!) This was number 2 in our book! 
We ended our night at a tropical themed bar called Monkey Mash, a super cute spot with cool vibes and crafty drinks! We even discovered that there was a speakeasy inside of it as well! They are super secretive about it, so if you go, make sure you ask your waiter about the "Red Frog." Fun fact, the Red Frog was rated one of the top 100 bars in the world!
Day 7: In Lisbon, Portugal
We started our morning with a complimentary rooftop breakfast at our Boutique House.
Of course, no trip to Lisbon is complete without a stop at Pasteis de Belem! It's rare to get a consensus on anything food-related these days. If you ask 10 New Yorkers where to find the best New York Pizza, you'll get 10 different answers; however, if you ask 10 Portuguese where to find the best Pasteis de Nata, there is a good chance they will all say Pasteis de Belem. And we 100% agreed! These pasteis were to die for!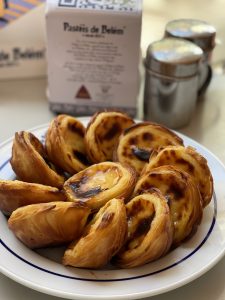 After that we visited the Jeronimos Monastery. Built in the 1500s, during the age of discovery, this former monastery is now a UNESCO World Heritage Site.
That evening, we stopped at a tiny, but very popular, open-fronted bar called A Ginjinha for a shot of Ginjinha, Lisbon's official drink. Ginjinha is a sweet cherry liqueur that originated in Lisbon. It goes down smoothly and only costs about 1.50 euros!
Then, we took a tuk tuk ride to have our last seafood meal at a local restaurant. This place is nothing fancy but the food was delicious and affordable. Just make sure to bring cash with you; they do not accept credit cards.
To finish our night, we explored the streets of Misericordia. We found Lisbon streets to be way more lively at night than they were in Porto, at least during the time we were there. We stopped by a latin bar. The music was lit and the drinks were pretty good and strong. This was one of the few spots we found playing Spanish music.
Day 8: Headed back home
We headed back home super early on our last day. You can opt to leave on a later flight to explore more of Lisbon.
Additional Tips:
Download the Bolt app, a taxi ride app that is cheaper than Uber.
Download Rome2Rio, an app that offers travelers multiple transportation options to get to and from any location in the world.
It is beneficial to exchange some of your currency to Euros prior to (or on) arrival.
If you happen to use Blablacar and have a bad experience like we did, you can email customer service for a full refund.
Mentally prepare yourself for slow service when dining out. People move at a much slower pace here.
Quick Money-Saving Tips
Try planning backwards. Search for flights and hotels in advance to see when is the best time to go. I personally like to use Google Flights, Skyscanner, and Momondo.
When booking excursions and tours via Viator, make sure to go through Rakuten to earn cashback! You can also try this when booking your accommodations.
Plan for your trip in advance. Start a travel sinking fund.

 

Start travel hacking to travel for less or potentially for free!
You can customize my Portugal itinerary to meet your needs. Then, leverage additional tips to get the most out of your 8–day trip in Portugal.