Where to stay. Things to see & do. Places to eat. And More!
Panama City is a top tourist destination with something for everyone. Outdoor experiences in this cultural hub will quench your thirst for adventure. I'll share some tips on what to do (and not to do) and where to stay and eat during your Panama City tour. You'll also learn how to budget for your trip to Panama City.
How to Plan the Best 4 Day Trip to Panama City
If you're looking to get the most out of your 4-day tour of Panama City, you've come to the right place! Panama City is a cultural melting pot with tons of things to do. The influences of the Spanish, French, and Americans over the past centuries define the city's architecture, cuisine, and culture.
Day 1: Arrive in Panama City 
After landing at Toucan International Airport in Panama City, we took an Uber to our Airbnb in Quartier Boutique PH Apartment. Uber is the most affordable and convenient mode of transportation from the airport to the hotel and vice versa. Our Airbnb was located in the city center, with an enticing pool on the rooftop, and a breathtaking view of Panama's architectural marvels.
Our Panama City tour guide took us to Flamenco Island, the Amador Causeway, the Puente De Las Américas (Bridge of the Americas), and Casco Viejo. We booked this half-day Panama City tour through Airbnb experiences at $55 pp through Airbnb experiences.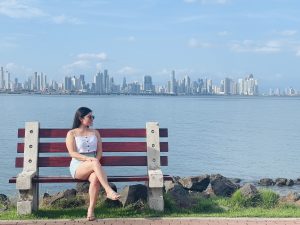 We ended this eventful first day with a meal at Tantalo Restaurant in Casco Viejo. Casco Viejo has a great ambiance, tantalizing drinks, mouthwatering foods, and breathtaking art. If you visit Panama City, stay in Casco Viejo.
Day 2: All-day Tour in San Blas Islands 
We started our all-day tour of the San Blas Islands on the Caribbean coast of Panama at 5:20 am. This top tourist destination in Panama is about a 2-hour drive away from Panama City. Beautiful bluish ocean waters and breathtaking views will take your mind off the bumpy 2-hour drive.
After riding for 2 hours, we were itching to explore San Blas Islands. We kayaked at the first island and cooled off on a swing while sipping refreshing pina coladas at the second island. In this idyllic tourist spot, customer service tends to be slow. Our pina coladas took almost 45 minutes to be served. To hasten the service, stay on top of your order.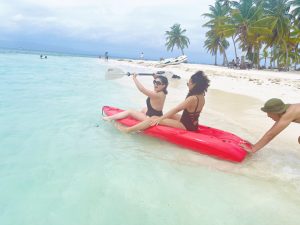 We had lunch on the third island. I ate fish with tostones, but I had to add salt because it didn't have flavor. You can book private huts months in advance to explore the island for several days. But I wouldn't be interested in this offering due to the lack of privacy and air conditioners. The total cost of this Panama excursion was $155 pp.
We stopped to swim in a natural swimming pool in the ocean to cool off before dinner at Wahaka Restaurant. I had one of the best drinks at this joint, aptly named The Wahaka Mule.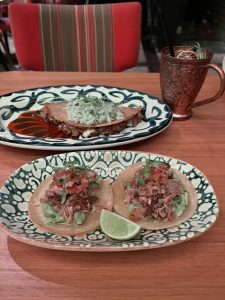 Day 3: All-day Ocean-to-Ocean Panama Canal and Jungle Tour 
Your itinerary of Panama City won't be complete without visiting the world-famous Panama Canal. We started our Ocean-to-Ocean Panama Canal and Jungle Tour at 6:50 am and cruised this iconic waterway from the Pacific to the Atlantic Ocean. This tour included Monkey Island, where we interacted and fed monkeys.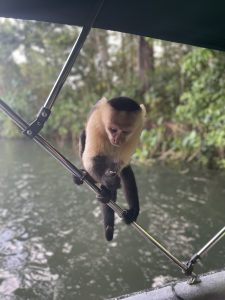 It was interesting to learn how the Panama Canal locks work at Agua Clara. The canal uses a lock system that acts as an elevator for ships. Agua Clara new locks use water-saving basins, gravity, and valves to raise ships to a canal at a higher elevation. It does not require pumping water in and out like the old locks.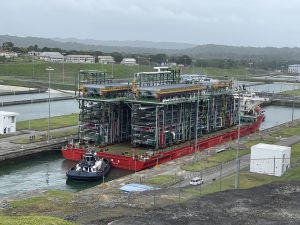 Our final stop was at San Lorenzo, located inside a protected forest. We visited Fort San Lorenzo ruins before enjoying a yummy picnic lunch.
As one of the most popular tours in Panama City, the Ocean-to-Ocean Panama Canal Tour is often sold out. Luckily, we got the opportunity to explore Panama Canal because they had last-minute cancellations. If you find yourself in a similar situation, I suggest messaging the company directly via WhatsApp (+507 6628 7246). The total cost of this excursion was $125 pp.
We ended the 3rd day of the Panama City tour with a dinner at La Vespa Restaurant. Here, I was mesmerized by panoramic views of Panama City's skyline. This restaurant serves delicious salmon, desserts, and drinks!
As this was our last night in Panama City, we traveled back to Casco Viejo to experience the nightlife. According to our tour guide, the best nightclubs in Panama City, like Buena Vaina and Chupitos 507, come alive on weekends. Unfortunately, because it was a Tuesday, there wasn't much going on. So, we ended our night early.
Ensure to allocate enough money for your nightly escapades in your Panama City travel budget.
Day 4: Final Tour Day and Departure 
On the final day, we made the most of our morning. We headed to Casco Viejo for breakfast at Mahalo Cocina y Jardin. This beautiful food joint features a garden with outdoor seating, creating a memorable fine-dining experience. We ordered burrito and huevos rancheros. If you're into green smoothies, Mahalo Cocina y Jardin is the place to be. This restaurant serves refreshing and tasty green smoothies!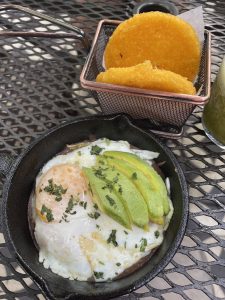 During your tour of Panama City, take a culinary journey. Indulge your tasting buds in authentic local cuisines and dishes influenced by the French, Spanish, and Americans.
After breakfast, we headed to Plaza de Francia for souvenir shopping.
Panama has unique handicrafts, but it is not as affordable as other Central American countries. Most souvenir shops don't like to bargain with tourists. Ensure to include enough cash for souvenirs in your travel budget.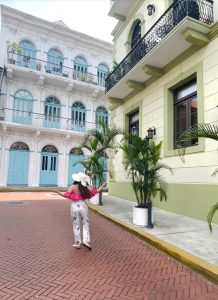 Additional Tips
Uber is more affordable than airport shuttle transportation. Use Uber to reduce travel expenses in Panama.
Panama's official currency is the Balboa, but they also use the U.S. Dollar. Both currencies are worth the same. I only transacted in U.S. Dollars during my Panama City tour.
I recommend staying at Casco Viejo rather than within the city. Why? Casco Viejo is the epicenter of Panama's social scene and close to top tourist excursions around Panama City. Staying in Casco Viejo can save you time and money traveling between experiences.
Locals are not chatty. Don't take it personally if they don't engage in your conversations.
Quick Money-Saving Tips
Plan backward: Before picking your travel date, search for flights and hotels to determine the best time to visit Panama City. I like to use Google Flights, Skyscanner, and Momondo for travel research.
Shop around: Excursions and tours contribute the lion's share of travel costs. When searching for Panama City tour packages online, don't pick the first options. Shop around to find the most cost-effective excursions and tours. Additionally, if you're booking these through Viator, ensure to go via Rakuten to earn cashback!
Travel hacking: Use travel credit card rewards to travel for less or potentially a free trip!
Save for travel: Your travel budget is limited by personal finance capabilities. Plan for your trip in advance. Start a travel sinking fund to save for your Panama City tour.
You can customize my Panama City tour itinerary to meet your needs. Then, leverage additional tips to get the most out of your 4-day trip to Panama City.
Want to learn how to be able to manage your money and be able to travel the world? Schedule your free 15 minute discovery call so that we can discuss your situation, financial, and travel goals to find out how I can help you.